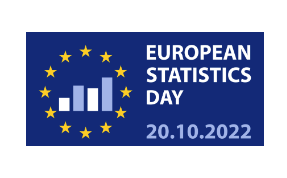 20.10.2022. -
European Statistics Day

With the slogan "Statistics to understand and connect to society, in the search for truth!", European Statistics Day is being celebrated for the seventh year.
In a statement on the occasion of the European Statistics Day, ESAC (European statistical advisory committee) stated that statistical data are important "for strengthening the central democratic role of statistics in society, as the main driver of social cohesion, well-being, and a factor in fight against misinformation." 
SORS is consistent to its mission - creating and publishing statistical data that are relevant, unbiased, reliable, timely and internationally comparable - and, in a year when European statistics emphasizes the importance of understanding society and connecting with it, we celebrate 160 years of statistics in Serbia and conduct the 28th Census of population, households and dwellings, 2022. 
More about the European Statistics Day at the link