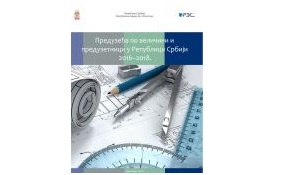 12.11.2020. -
"Enterprises by size and entrepreneurs in the Republic of Serbia, 2016‒2018"

The publication by the author Milan Burzanović contains selected macroeconomic indicators by enterprise size class (i.e. by the contingents of micro, small, medium and large enterprises), also including the unincorporated enterprises, in the previous three – year period, thus enabling understanding of both dynamics and structure of the observed economic phenomena, from more aspects. Therefore, in accordance with the users' interests and significance for further strategy decision - making, particularly presented are the aggregated data for the section of micro, small and medium-sized enterprises and unincorporated enterprises (MSM). Indicators are presented on the level of sections of the CA (2010), and territorially up to the level of regions according to the Nomenclature of Statistical Territorial Units.
The selected macroeconomic indicators are: 1. number of business entities (enterprises, i.e. unincorporated enterprises); 2. Number of employees; 3. Turnover; 4. Gross value added (GVA); 5. GDP per employee; 6. Number of exporters; 7. Export of goods; 8. Number of importers; 9. Import of goods; 10. Capital (basic); 11. Domestic capital; 12. Foreign capital; 13. Share of domestic capital; 14. Share of foreign capital.
It is to be expected that a lot of prepared data will be of significant benefit to economic policy makers, in terms of better understanding of the current situation, drawing valid conclusions, both on the sectoral and regional aspects of entrepreneurship and marking the main directions of future activity.