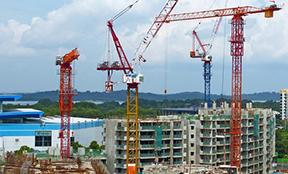 14.06.2019. -
Construction works abroad, 2018

The total value of works that contractors from the Republic of Serbia performed abroad in 2018 amounted to 17 561 mill. RSD. The largest construction activity, observed by countries, was noted in the Germany, 18.5% of the total value of works performed, then in the Russian Federation, 16.6%, Montenegro, 13.9%, and Peru, 10.7%.
In 2018, when observed by type of constructions, works done on buildings amounted to 8 639 mill. RSD, which is almost 49.2% of the value of works done.
Construction materials and equipment from the Republic of Serbia were most incorporated in Bosnia and Herzegovina and Montenegro.
The total number of employees from the Republic of Serbia that were engaged abroad by our contractors amounted 1 726. Most of them worked in Germany, Montenegro, the Russian Federation and Bosnia and Herzegovina.    
In 2018, most of works were contracted in the Montenegro, followed by the Russian Federation, Germany, Uganda and Bulgaria.